Crayons Christmas Happier Hour
Esteban the Green Crayon will make a special appearance for our Crayons Christmas Storytime!
Children's story time + happy hour = Happier Hour. 1/2 off drinks from 4-5. Stories at 4:30. Make everyone happier!


About the Book: A brand-new Crayons book from the #1 New York Times best-selling duo Drew Daywalt and Oliver Jeffers, just in time for the holidays. This special book has letters, games, ornaments, a poster, and even a pop-up Christmas tree! 'Tis the season for all of us to write our holiday wishlists. But everyone—even the crayons—know the best presents are the ones that you give. In this unique book, readers get to see how Duncan, the crayons, and their families celebrate the holidays. With real, folded letters from the Crayons that you can pull from their envelopes and read, games, punch-out ornaments, a poster, and a pop-up tree, this book is the perfect gift for fans of The Day the Crayons Quit and The Day the Crayons Came Home.

Drew Daywalt grew up in a haunted house, but now lives in a Southern California home haunted by only his wife, two kids, and a German Shepherd. A Hollywood screenwriter when he is not writing for young readers, Drew's favorite crayon is Black. He is the #1 bestselling author of The Day the Crayons Quit and The Day the Crayons Came Home. Follow Drew at @DrewDaywalt.

Oliver Jeffers (www.oliverjeffers.com) is a creator of art for adults and children. An illustrator of fine art, his picture books have received numerous awards and much critical acclaim. The Day the Crayons Quit and The Day the Crayons Came Home, written by Drew Daywalt, both #1 New York Times Bestsellers, exploded a wave of success that began swelling with the bestsellers Stuck and This Moose Belongs to Me. Oliver has become one of the world's most in demand artists, creating pieces and graphics for TED talks, The New York Times, Publishers Weekly, and for U2's lyric video to the song "Ordinary Love." Born in Belfast, Ireland, he lives and creates art in Brooklyn, New York.
Event date:
Tuesday, December 10, 2019 - 4:30pm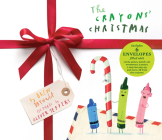 $19.99
ISBN: 9780525515746
Availability: On Our Shelves Now
Published: Penguin Workshop - October 15th, 2019
---