Book Launch Storytime with Kim Tomsic & Andrea Wang
Come celebrate with Kim Tomsic and Andrea Wang for a storytime followed by the book launch of their books Guitar Genius and Magic Ramen!
About the Authors:
Kim Tomsic lives in Boulder, Colorado. This is her first picture book. Visit www.kimtomsic.com for more information.
Brett Helquist is the New York Times bestselling illustrator of many books, including the Lemony Snicket books, A Series of Unfortunate Events. He lives in Brooklyn, New York.
Andrea Wang loves noodles, food, and noodling about food. A former environmental scientist, she appreciates Ando's scientific spirit, persistence in the face of failure, and passion for making the world a better place. Andrea lives in Colorado with her family and their dog, Mochi. Sometimes they have instant ramen for breakfast. You can find out more about Andrea at andreaywang.com.
Kana Urbanowicz works mainly as an illustrator and likes to draw people eating delicious food. Apart from illustration, she also creates animations, comics, and even clay figurines. She lives in Kanagawa, Japan, with her artist husband.
Guitar Genius: This is the story of how Les Paul created the world's first solid- body electric guitar, countless other inventions that changed modern music, and one truly epic career in rock and roll. How to make a microphone? A broomstick, a cinderblock, a telephone, a radio. How to make an electric guitar? A record player's arm, a speaker, some tape. How to make a legendary inventor? A few tools, a lot of curiosity, and an endless faith in what is possible. Featuring richly detailed, dynamic illustrations by Brett Helquist, this unforgettable biography will resonate with inventive readers young and old.
Magic Ramen: Inspiration struck when Momofuku Ando spotted the long lines for a simple bowl of ramen following World War II. Magic Ramen tells the true story behind the creation of one of the world's most popular foods. Every day, Momofuku Ando would retire to his lab--a little shed in his backyard. For years, he'd dreamed about making a new kind of ramen noodle soup that was quick, convenient, and tasty for the hungry people he'd seen in line for a bowl on the black market following World War II. Peace follows from a full stomach, he believed. Day after day, Ando experimented. Night after night, he failed. But Ando kept experimenting. With persistence, creativity, and a little inspiration, Ando succeeded. This is the true story behind one of the world's most popular foods.
Event date:
Saturday, June 22, 2019 -

12:00pm

to

2:00pm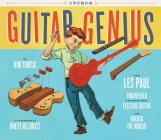 $17.99
ISBN: 9781452159195
Availability: Usually Ships in 1-5 Days
Published: Chronicle Books - April 9th, 2019
---

$17.99
ISBN: 9781499807035
Availability: Usually Ships in 1-5 Days
Published: little bee books - March 5th, 2019
---